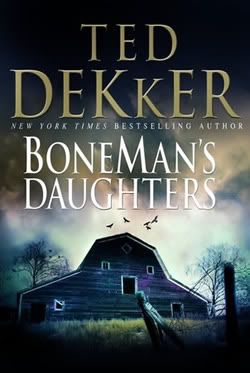 In support of Book Blogger Appreciation Week, I will be hosting five giveaways: one for each day of BBAW. Though I will be posting them all on Monday, they will each represent one of the BBAW days, and will run until Sunday. For Tuesday's giveaway: BoneMan's Daughters by Ted Dekker. Here's a description:


They call him BoneMan, a serial killer who's abducted six young women. He's the perfect father looking for the perfect daughter, and when his victims fail to meet his lofty expectations, he kills them by breaking their bones and leaving them to die.

Intelligence officer Ryan Evans, on the other hand, has lost all hope of ever being the perfect father. His daughter and wife have written him out of their lives.

Everything changes when BoneMan takes Ryan's estranged daughter, Bethany, as his seventh victim. Ryan goes after BoneMan on his own.

But the FBI sees it differently. New evidence points to the suspicion that Ryan is BoneMan. Now the hunter is the hunted, and in the end, only one father will stand.
The Rules

1. The contest will run until midnight EST on September 20th.
2. This giveaway is limited to the United States and Canada only.
3. To enter, just leave a comment with your e-mail address so that I can contact you if you win.
4. For additional entries, you can:

+1 Follow my blog
+1 Subscribe by reader
+1 Subscribe by e-mail
+3 Post on your blog about this contest (either sidebar or post is
fine; include the link in your comment)
5. Please post a separate comment for each entry.

Good luck!