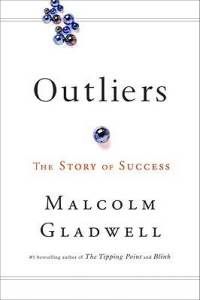 In support of Book Blogger Appreciation Week, I will be hosting five giveaways: one for each day of BBAW. Though I will be posting them all on Monday, they will each represent one of the BBAW days, and will run until Sunday. For Friday's giveaway: Outliers: The Story of Success by Malcolm Gladwell. Here's a description:


From the author of Blink and The Tipping Point, a new book that asks: why are people successful? For centuries, humankind has grappled with this question, searching for the secret to accomplishing great things. This book takes us on a journey to show us what makes an overachiever. It reveals that we pay more attention to what successful people are like, and little attention to where successful people are from.
The Rules

1. The contest will run until midnight EST on September 20th.
2. This giveaway is limited to the United States and Canada only.
3. To enter, just leave a comment with your e-mail address so that I can contact you if you win.
4. For additional entries, you can:

+1 Follow my blog
+1 Subscribe by reader
+1 Subscribe by e-mail
+3 Post on your blog about this contest (either sidebar or post is
fine; include the link in your comment)
5. Please post a separate comment for each entry.

Good luck!