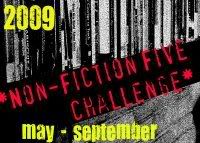 Non-Fiction Five Reading Challenge

Thanks to Trish at Trish's Reading Nook for hosting this challenge!

I'm joining this challenge rather late--it runs from May through September--but I think I can make it if I really push myself. I typically confine myself to fiction, even though I have a number of biographies, cultural histories and memoirs sitting on my shelves; this challenge will (hopefully) help to clear up that non-fiction TBR pile.

The challenge's only requirement (outside of the time frame) is that one of the book be a different type than the others (i.e., 4 memoirs and 1 self-help book). I plan to go farther. I'm going to try to read five different types of non-fiction books: biography, memoir, historical survey, cultural history and book of essays. I obviously reserve the right to change my mind on that!

1. Julie & Julia by Julie Powell (memoir)
2.The Impostor's Daughter by Laurie Sandell (graphic novel memoir)
3.The Link by Colin Tudge (scientific survey)
4.
5.