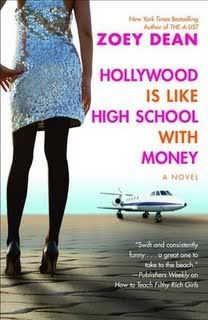 In support of Book Blogger Appreciation Week, I will be hosting five giveaways: one for each day of BBAW. Though I will be posting them all on Monday, they will each represent one of the BBAW days, and will run until Sunday. For Monday's giveaway: Hollywood Is Like High School With Money by Zoey Dean. Here's a description:


Twenty-four-year old Taylor Henning has just landed her dream job as an assistant at a major movie studio. But when her catty coworkers trick her into almost getting fired, she realizes that the old saying "Hollywood is like school with money" just may be true. The thing is, Taylor wasn't exactly a social butterfly in high school--how is she supposed to do any better the second time around?

That's when she meets her boss's popular sixteen-year-old daughter Quinn, and has an epiphany: maybe this teenager can teach her how to use her queen bee tactics to succeed in the Hollywood popularity contest. Quinn comes up with a plan to teach Taylor one lesson a week--everything from "Fake it 'til you make it" to "It's *never* your fault"--and soon Taylor finds herself winning the war against rival assistant Kylie. Until, that is, she's directed to steal Kylie's boyfriend, and something happens that's not in the game plan: Taylor falls for the guy. Now she must do the impossible--harness her inner mean girl while staying true to herself.
The Rules

1. The contest will run until midnight EST on September 20th.
2. This giveaway is limited to the United States and Canada only.
3. To enter, just leave a comment with your e-mail address so that I can contact you if you win.
4. For additional entries, you can:

+1 Follow my blog
+1 Subscribe by reader
+1 Subscribe by e-mail
+3 Post on your blog about this contest (either sidebar or post is
fine; include the link in your comment)
5. Please post a separate comment for each entry.

Good luck!