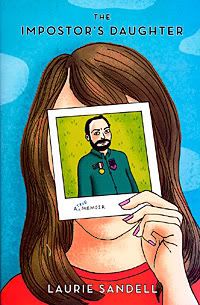 When I first laid eyes on
The Impostor's Daughter
, I knew I was about to read a rather unique book: a memoir presented in graphic novel form. But once you go beyond the packaging, deep into Laurie
Sandell's
story, you will find that there is much more to
The Impostor's Daughter
than a flashy presentation.
Sandell's
memoir traces the path that she took to reveal the truth about her eloquent and heroic father--who may also be a liar of epic proportions--and the struggle
Sandell
went through to grapple with her own identity in the shadow of her father's.
Whether she got it from her father or not,
Sandell
has a great talent for storytelling; she knows how to draw the reader in and keep them captivated. Indeed, much of
The Impostor's Daughter
reads like a good suspense novel: a domineering and charismatic man is slowly revealed to be a huckster; who knows what the damage will be on those around him?
Sandell
seems to be aware of the element of mystery as she crafts the pacing extremely well; at any point in the story, she reveals just enough information to keep you hooked without giving away where the narrative will end up.
The book's weak point is, well, the "graphic" part of "graphic novel." Don't get me wrong, I don't have much experience with the genre, but the novels I have read--
Persepolis
,
V for Vendetta
--had
significantly
better artwork.
Sandell
includes artwork she made as a child in several frames, and the talent displayed in the rest of book barely surpasses her childhood capabilities. I wonder if she would not have been better served to hire a dedicated artist to sketch out her ideas instead.
But at the end of the day, the artwork doesn't distract from the story, which is very near flawless. My one piece of advice is this: approach this as a novel with pictures rather than a graphic novel, and you won't be disappointed.
---------------------
Now for the giveaway! Thanks to Anna and the good people at
Hachette
, I have five copies of
The Impostor's Daughter
to give away.
The Rules
1. The contest will run until midnight EST on
August 31st
.
2. Unfortunately, this giveaway is limited to the United States and Canada only, and no P.O. Box addresses can be accepted.
3. To enter, just leave a comment with your e-mail address so that I can contact you if you win.
4. For additional entries, you can:
+1 Follow my blog
+1 Subscribe by reader
+1 Subscribe by e-mail
+3 Post on your blog about this contest (either sidebar or post is
fine; include the link in your comment)
+1 Tweet about this contest (include the link in your comment)
5. Please post a separate comment for each entry.
Good luck!
---------------------